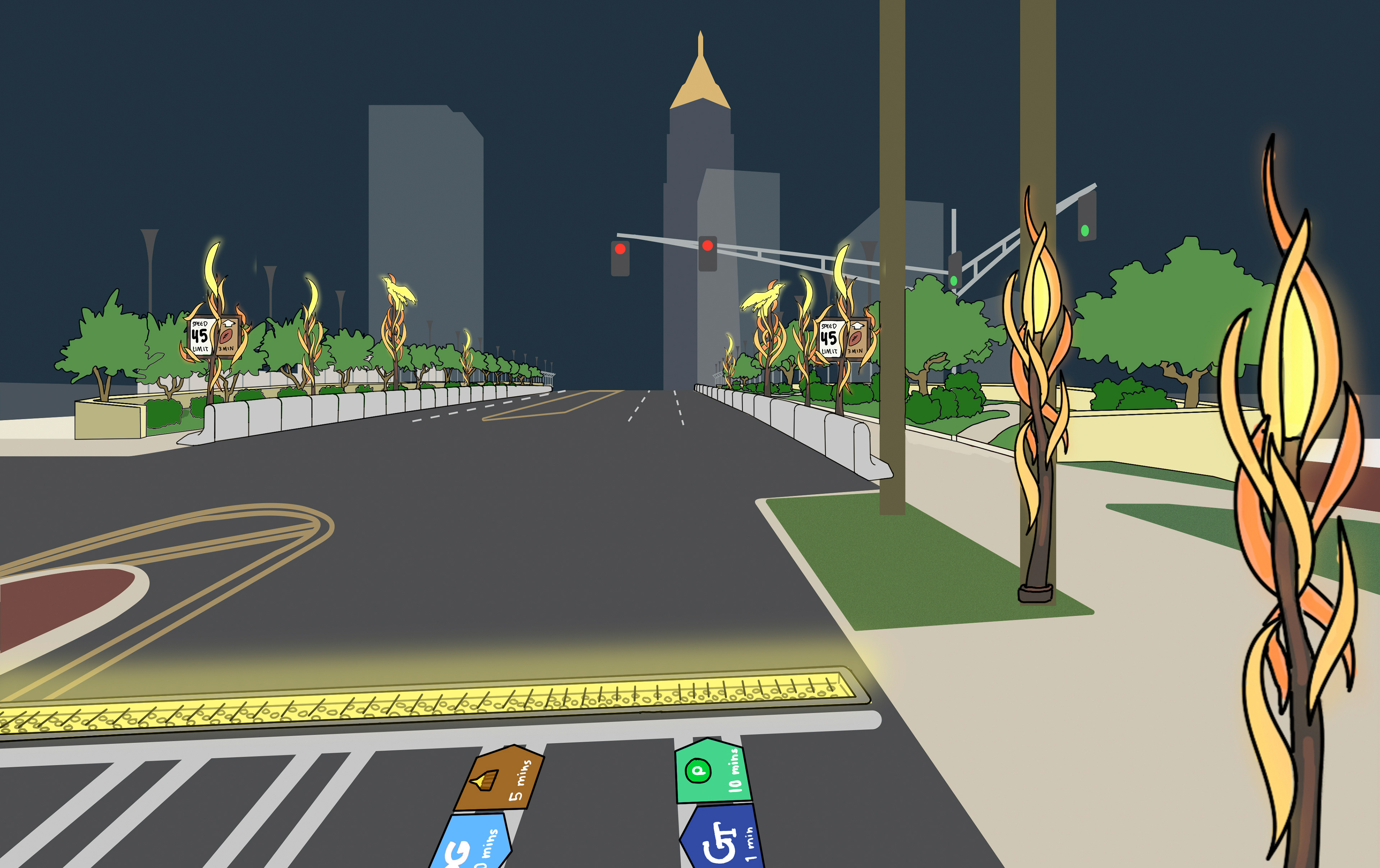 Healthcare Studio with professor Herb Velazquez & the

Centers for Disease 

Control
Created with Michael Armstrong, May Iyer, and Anna Taute
CHALLENGE:
Find an activity-friendly route between everyday destinations near Georgia Tech's campus, and design ways to encourage more frequent and more active use of that route.
MY ROLE:
Research on pedestrian design and the existing route, some concept development, & parts of the final renderings.
Tools and techniques used include observation, photography, and vector graphics and information visualization in Sketch.
What is (and isn't) good pedestrian design?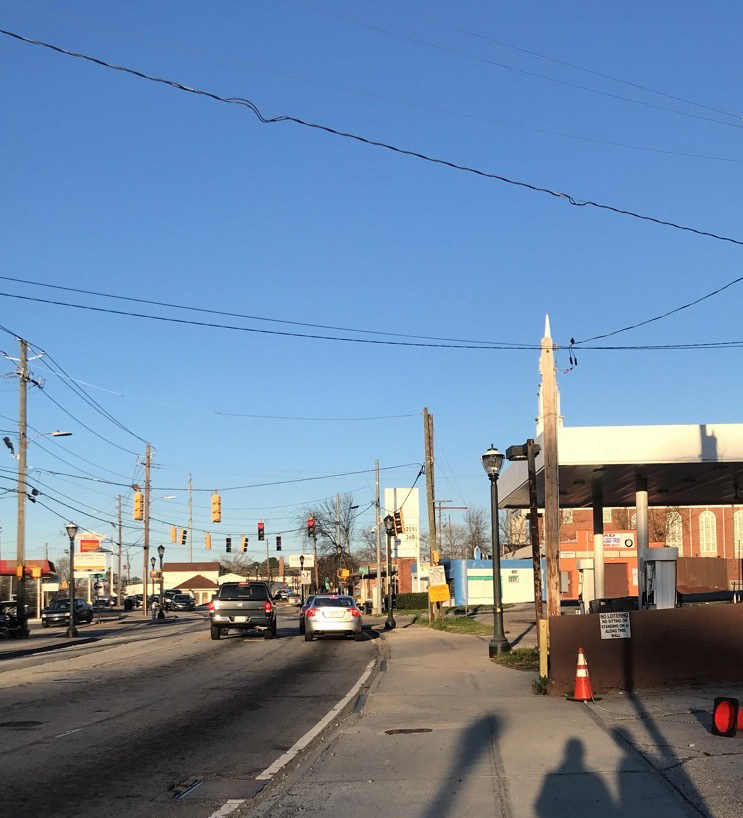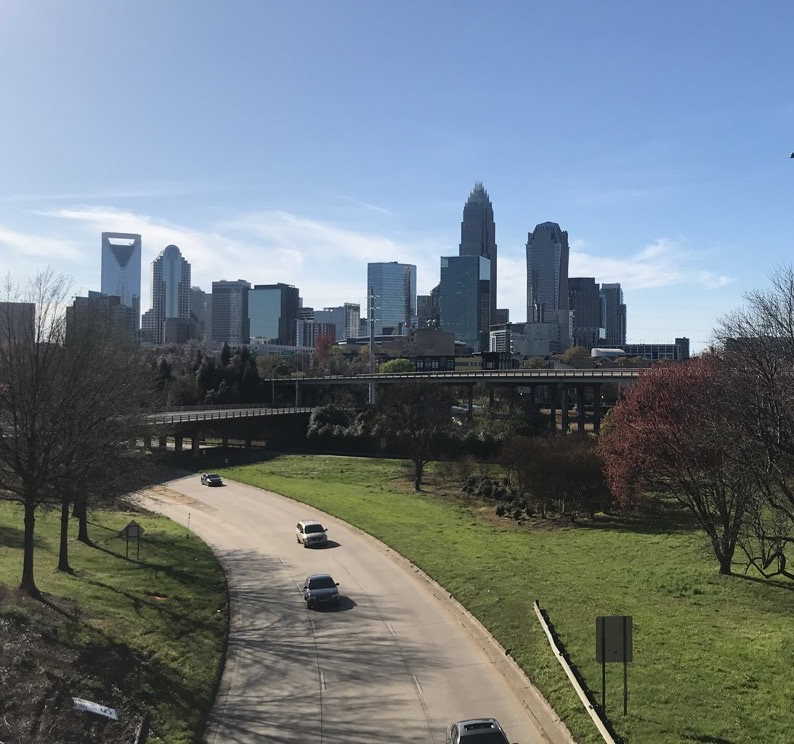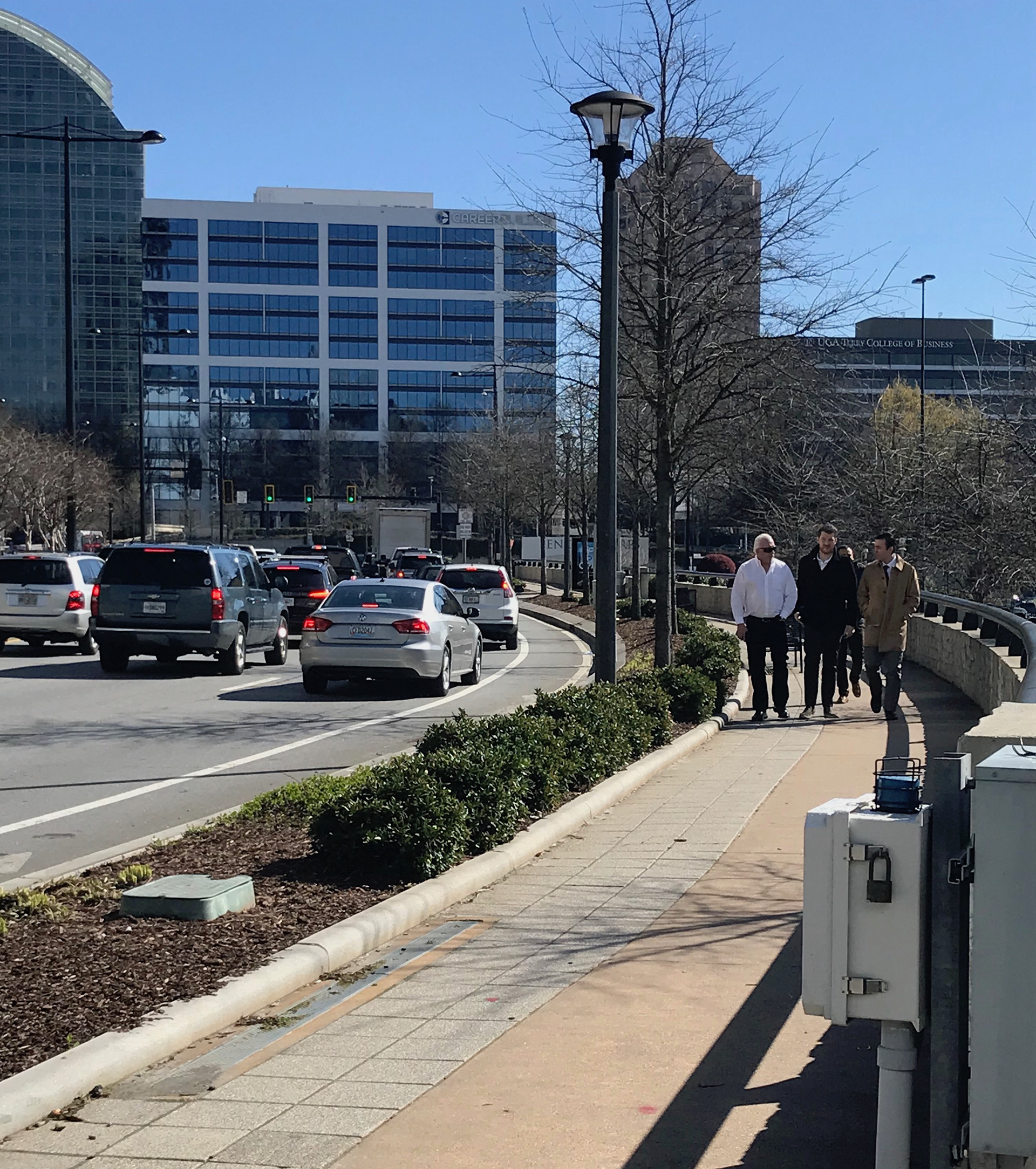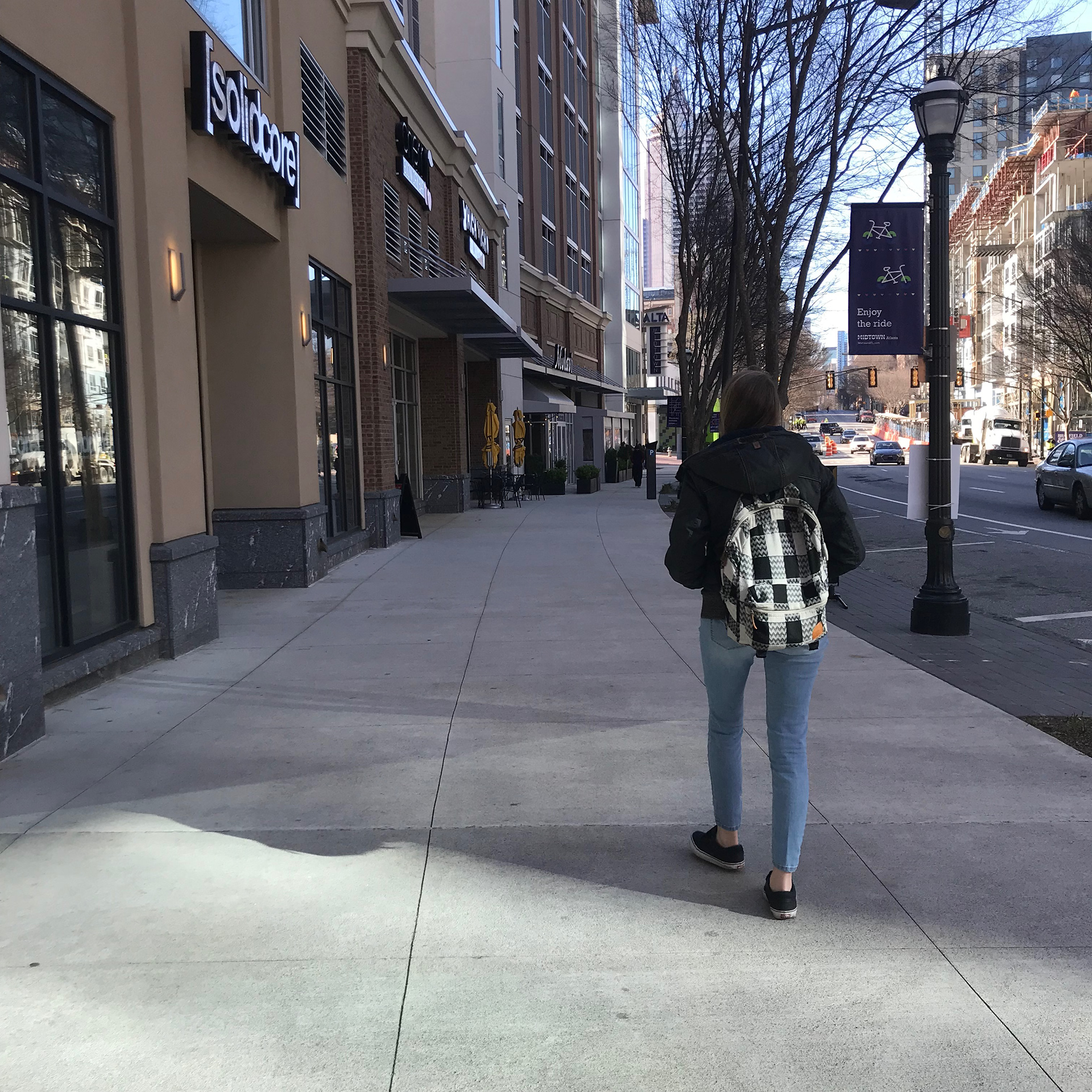 Based on William White's

The Social Life of Small Urban Spaces

, John Fruin's

Pedestrian Planning & Design

, Allan Jacobs'

Great Streets

, talks from Atlanta City Design Studio, and explorations of Atlanta, we developed our understanding of pedestrian design.
• People are attracted to other people
• Point-of-decision prompts 
• Pedestrian safety vs pedestrian security
People are attracted to other people:

The more a space is used, the more people will want to use it; having a good interaction with a stranger can create a good association with a space.
Point-of-decision prompts:

 If you don't know that an active pathway is an option, you'll never make the healthier choice. Signs at the point of decision where people choose how to to travel can change plans, as seen at the Atlanta airport.
Pedestrian safety vs pedestrian security:

 Pedestrian safety is about reducing interactions with vehicles, as seen in the mulch/greenery barrier in Buckhead. Pedestrian security is a feeling created by interventions like wide sidewalks (as seen in Midtown) and sufficient lighting.
What does our route look like today?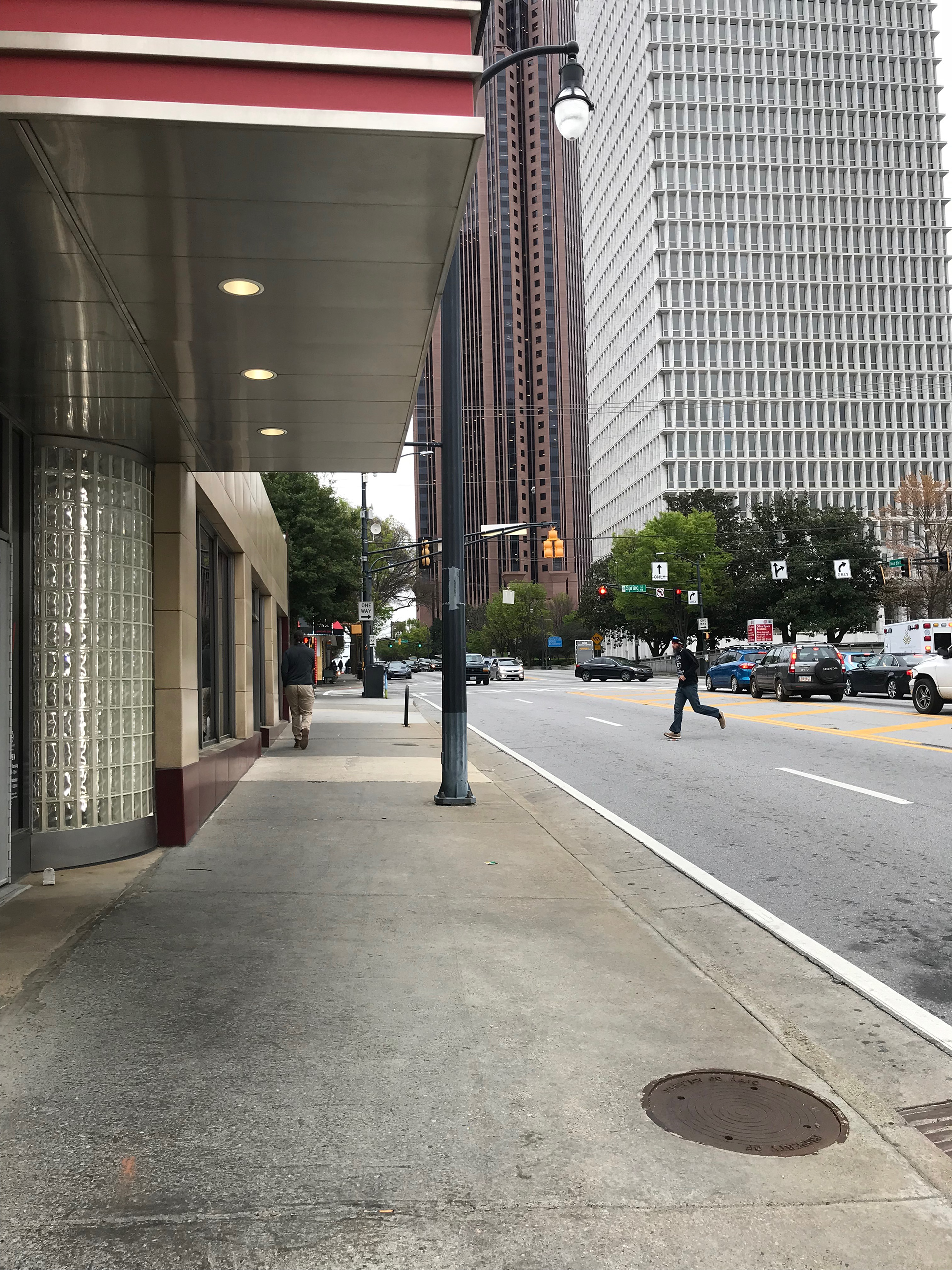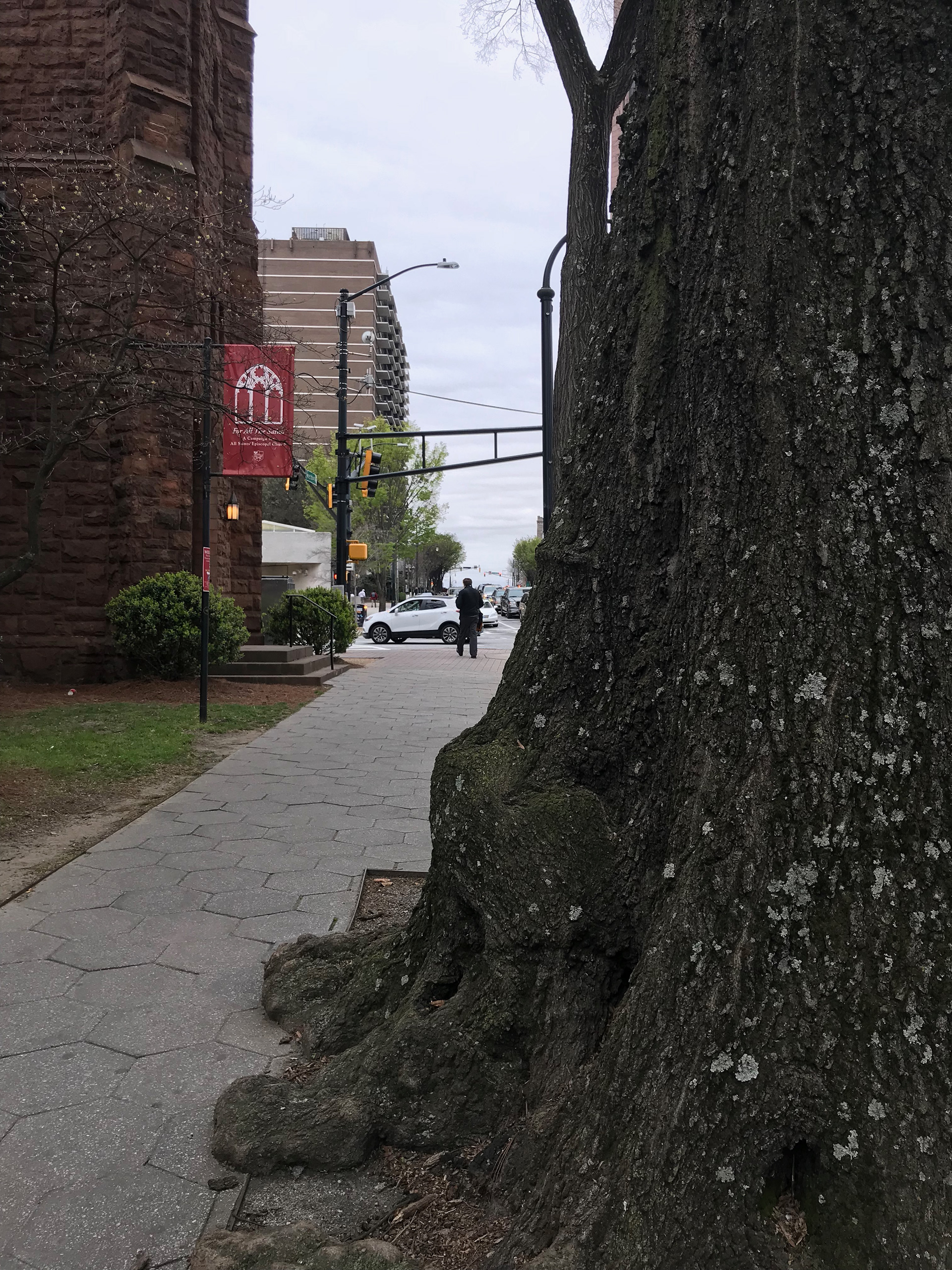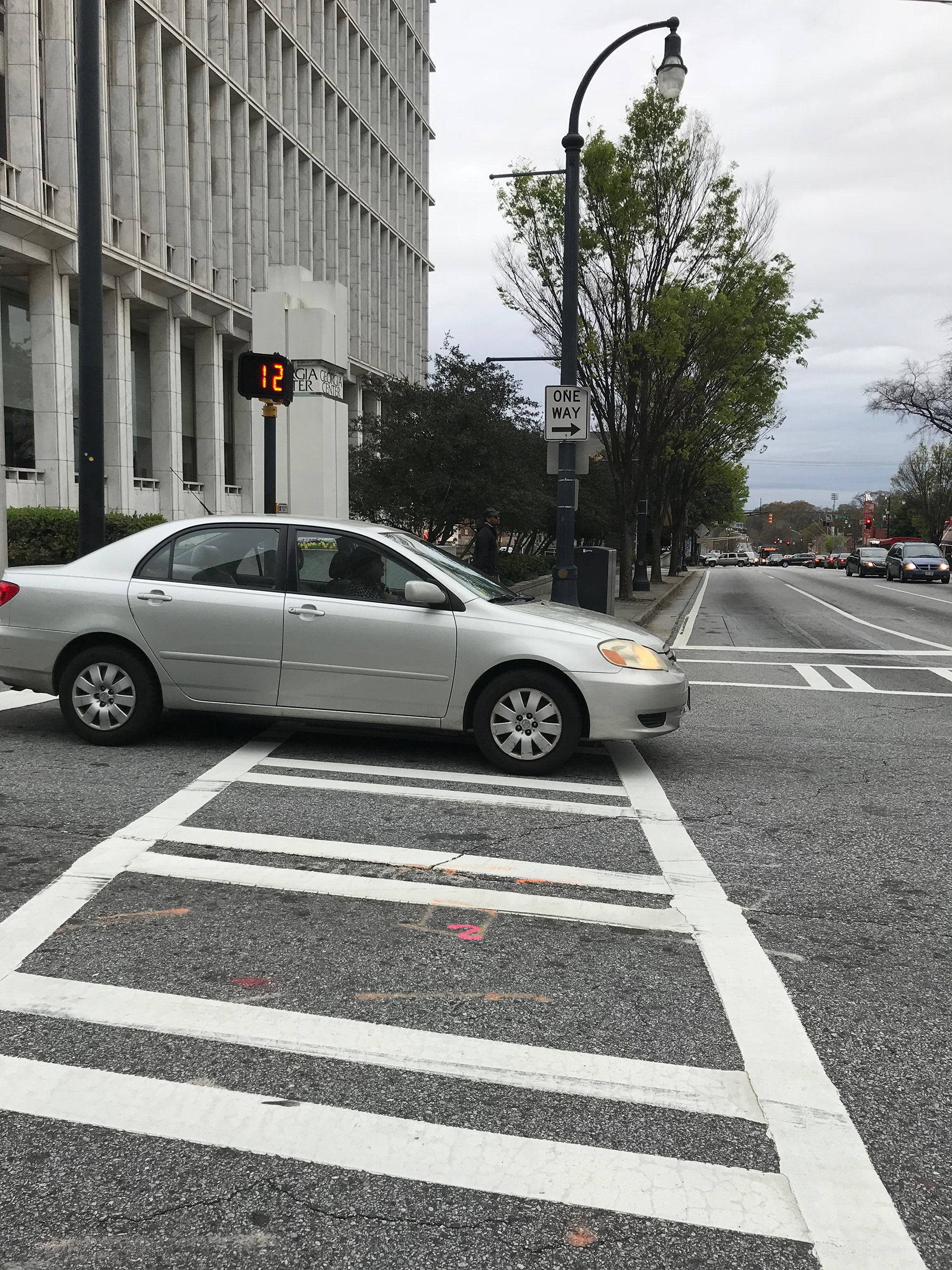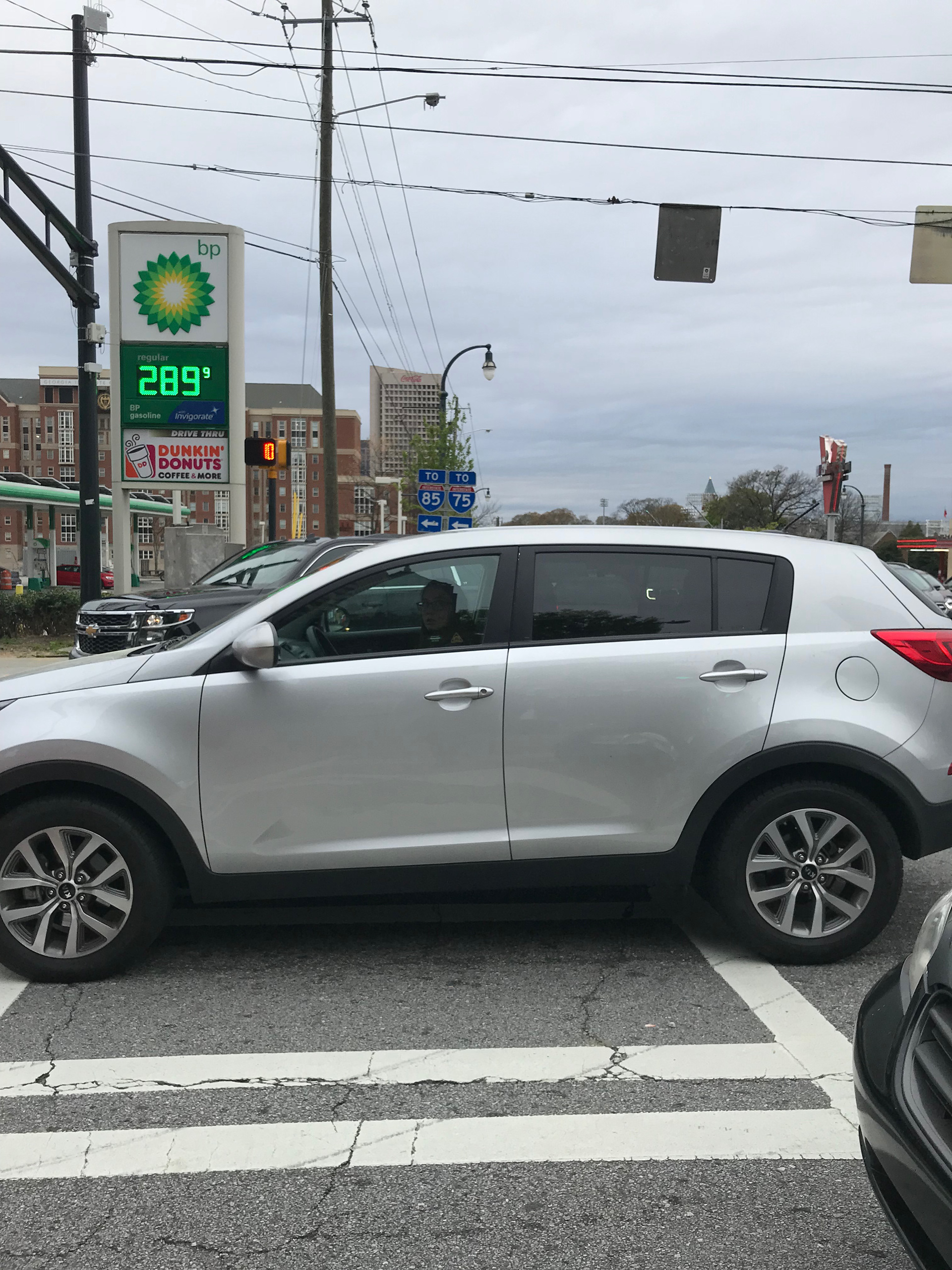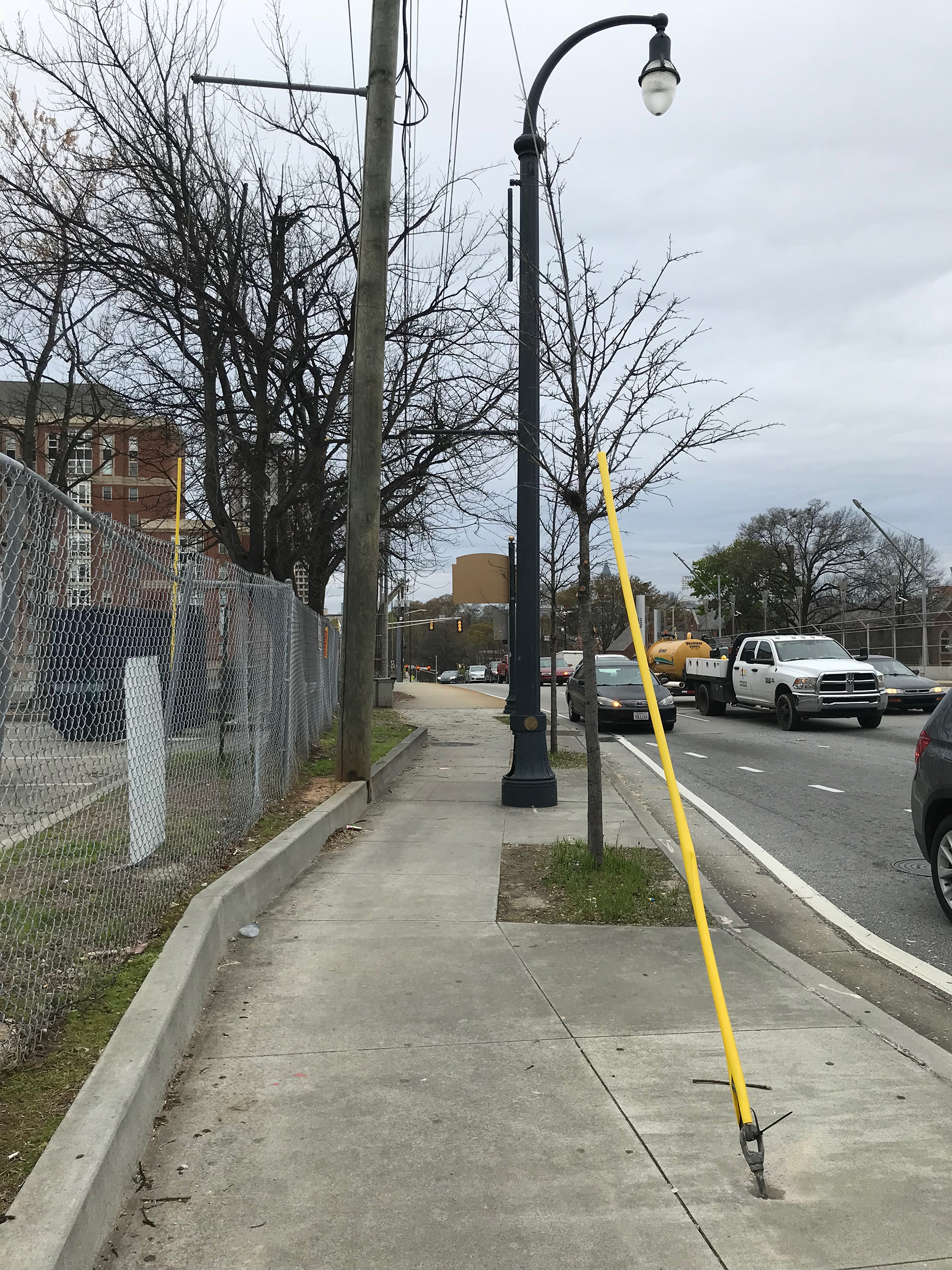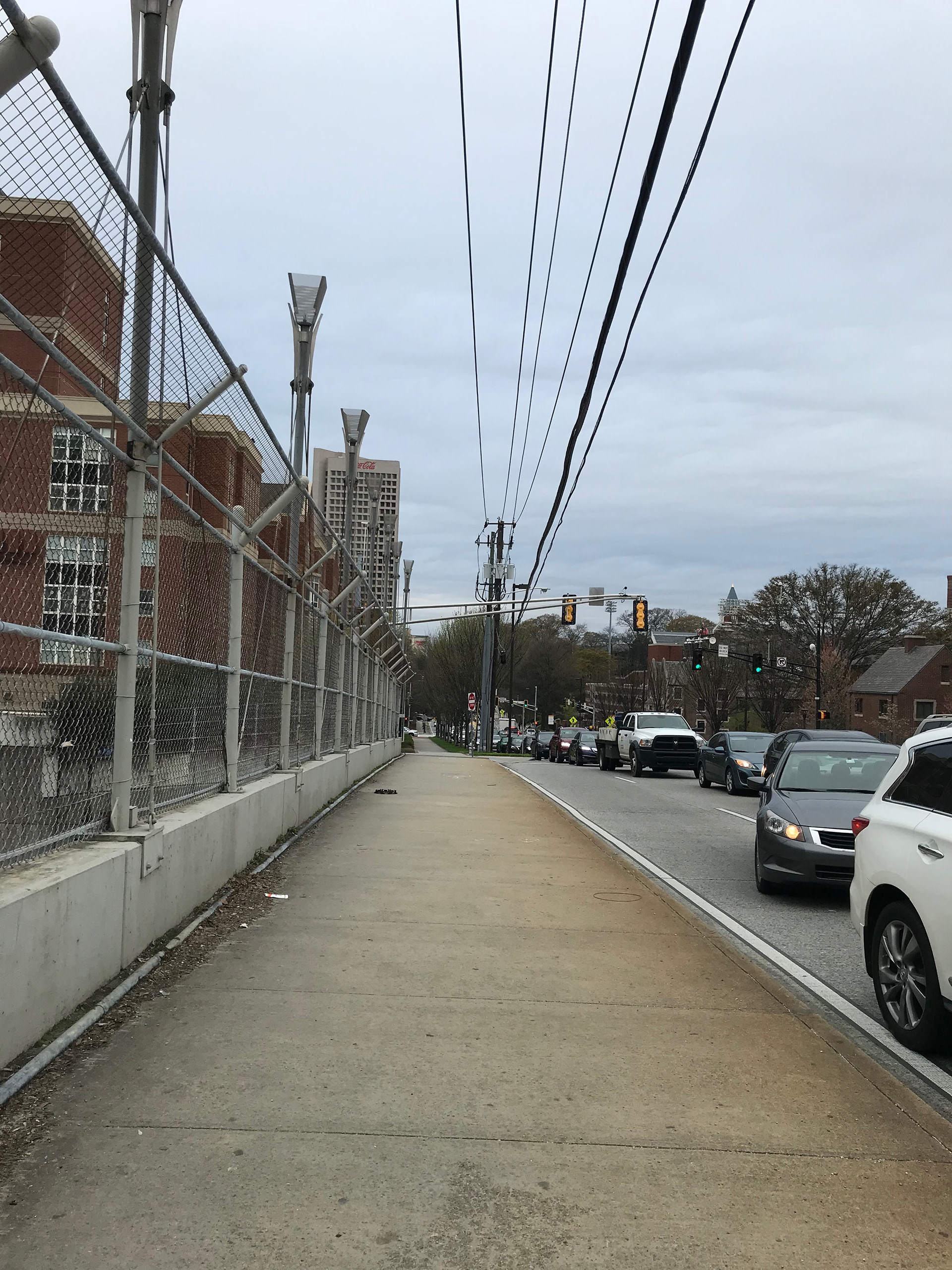 We also sent out a survey that reached 39 people, mostly Georgia Tech students and alumni.  Here's some of the information we gathered: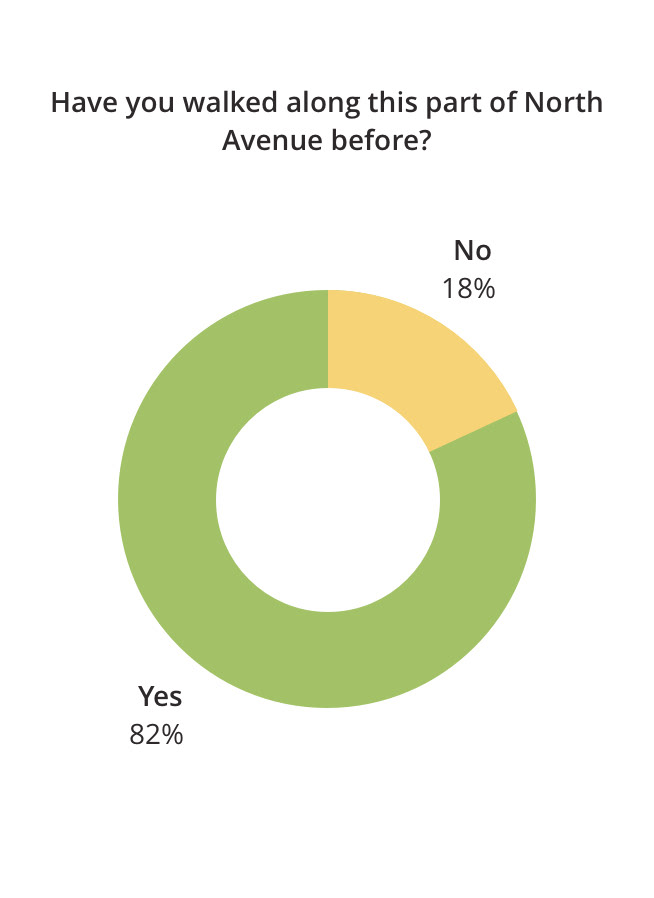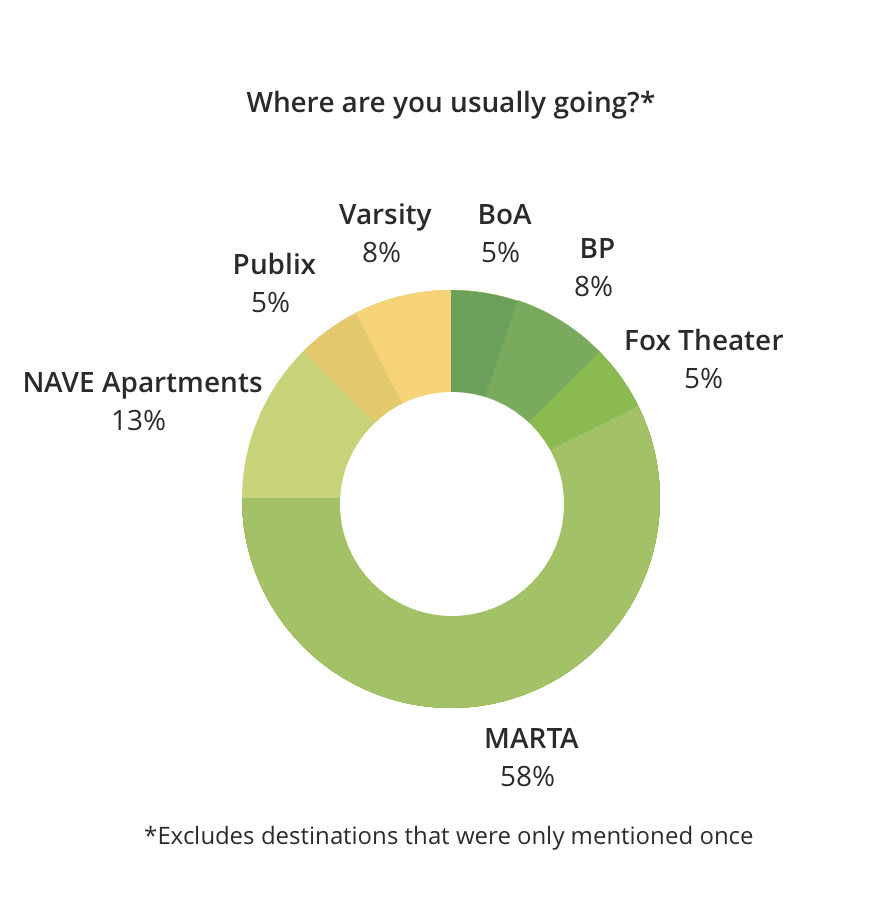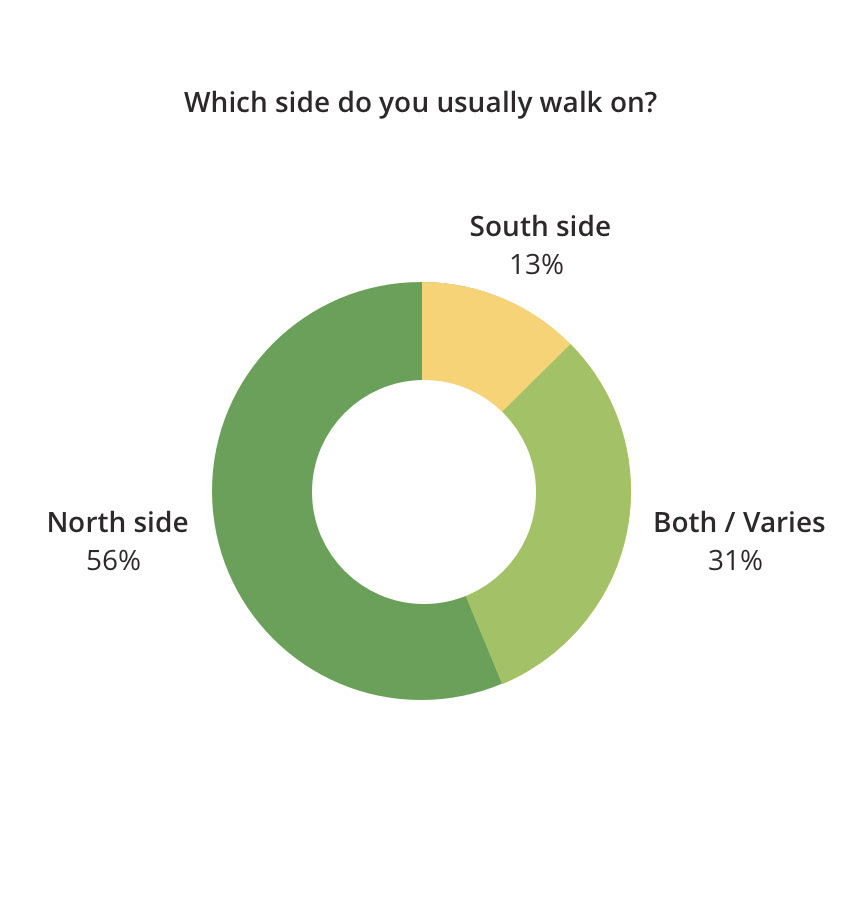 Positives included a "beautiful view", "walking and feeling like I'm in the city", "wide sidewalks on the bridge", and "that one homeless guy who says I'm smart because I go to Tech". 
The negatives, however, included "unpredictable cars", "no trees, it smells like car exhaust", "it gets very dark", and "sometimes I feel like I'm gonna get murdered". When we asked "are there any times you feel unsafe?" the majority of respondents said yes - adding things like "I've been warned about the area, so I take precautions"; "lots of muggings in this area, homeless, darkness, really sketchy"; and

"when I had to make the trip at night I would have someone drive me, even though it's a short walk."
"When I had to make the trip at night I would have someone drive me, even though it's a short walk."
That quote really crystalized our purpose for designing in this area. It's an easy opportunity to be more active by adding a short walk, but people feel too unsafe to take advantage of it.
We created four goals for our solution based on this research:
Create or enhance pedestrians'

safety

and

security

.
PRIORITIZE PEDESTRIANS OVER VEHICLES
Prioritize pedestrians

' needs over those of vehicles.
Provide a

sense of direction
.
At least some of our solutions should be applicable to

other areas of Atlanta.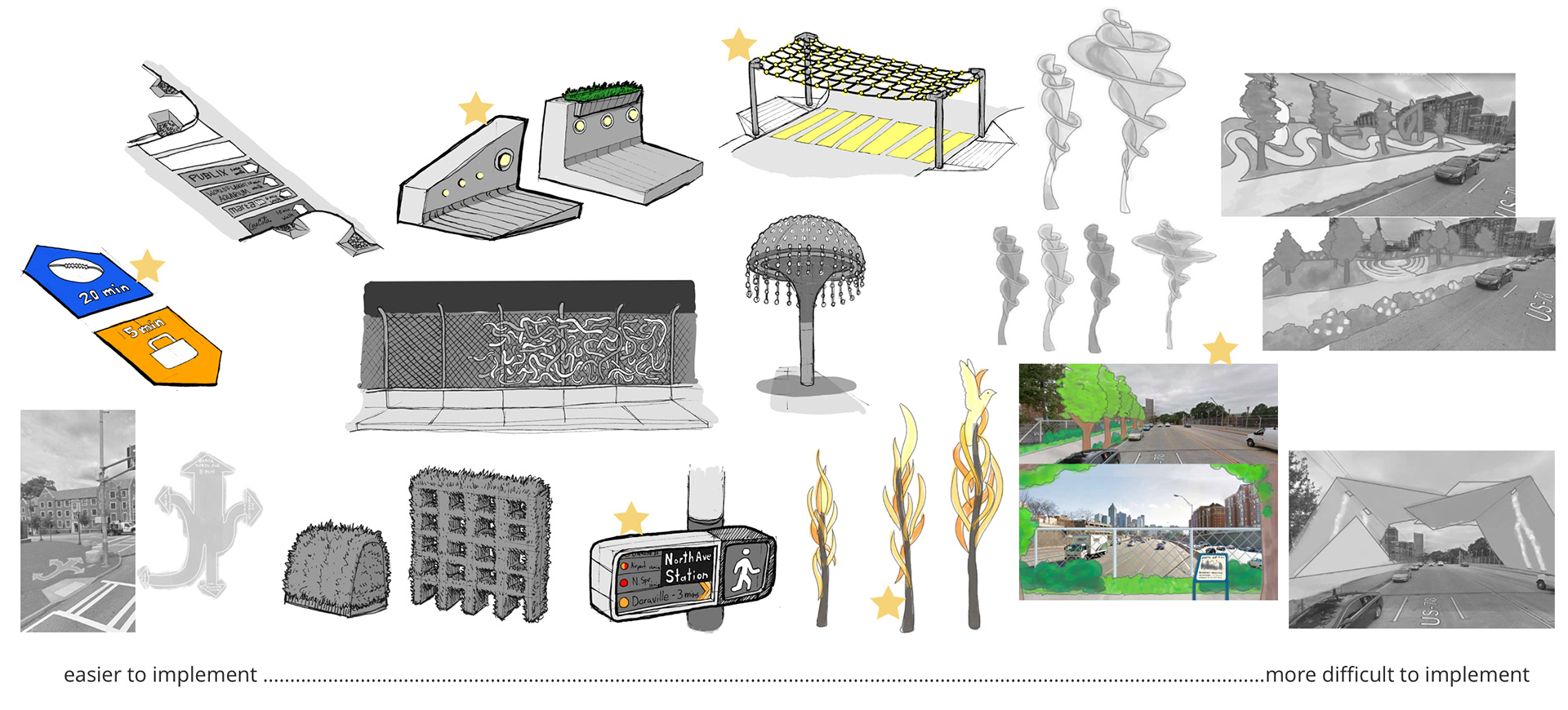 We tried to create some concepts that could be put in place quickly and cheaply, and some whose greater impact would require greater investment. With feedback from the CDC and our peers, we combined a few concepts and pushed them forwards. Most of the people we talked to were familiar with the area, so even though they weren't excited about wayfinding interventions like the crosswalk stickers, we wanted to keep tourists and visitors in mind too.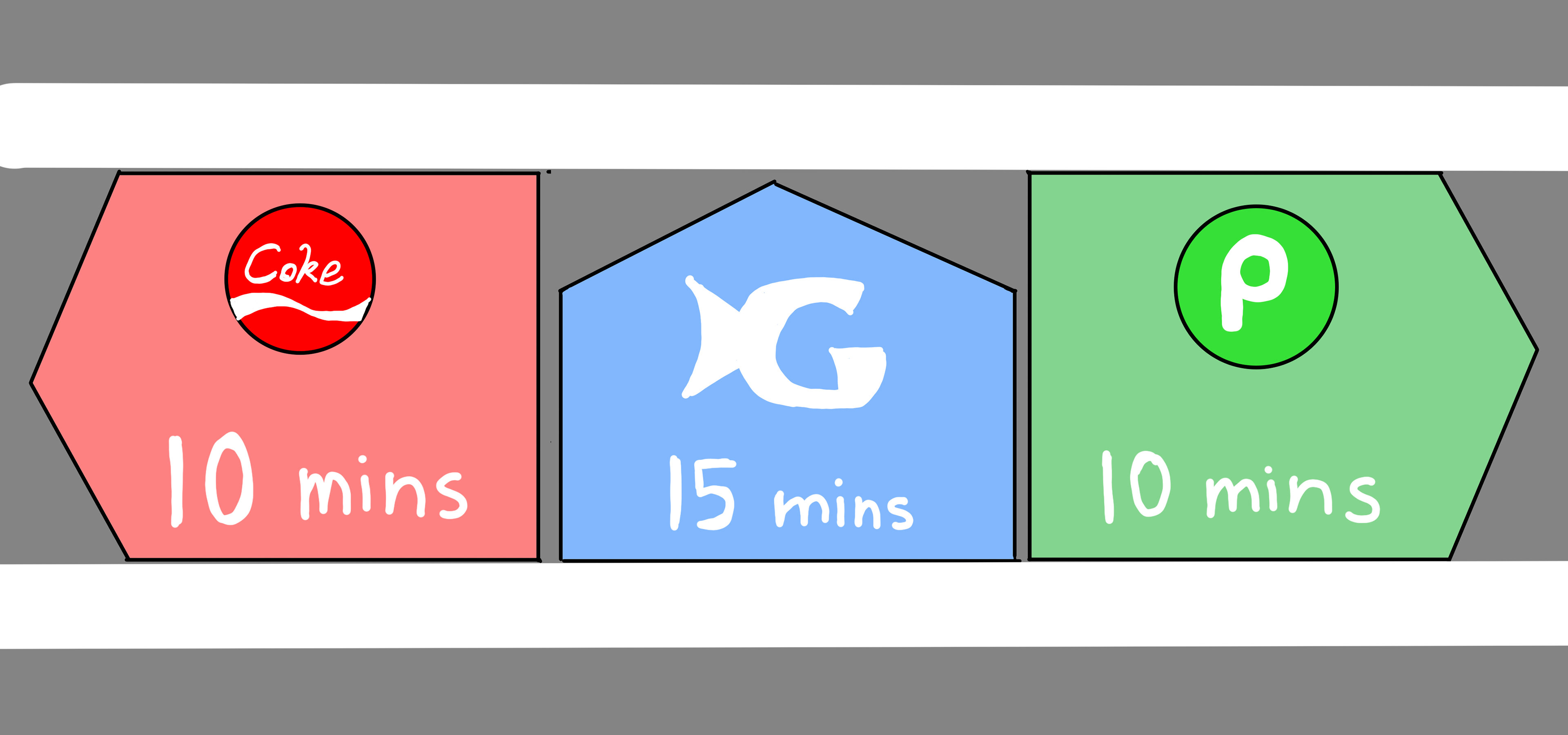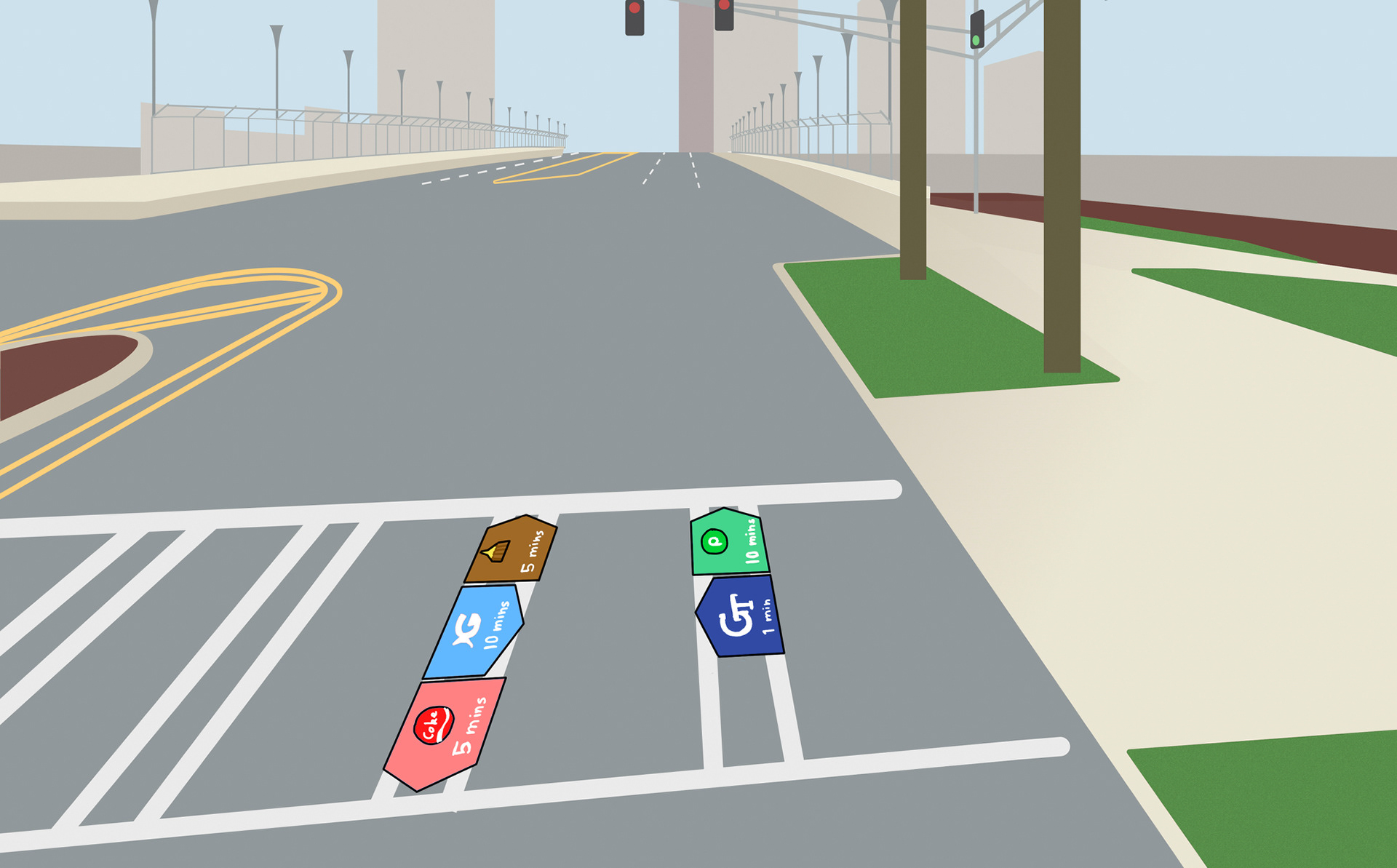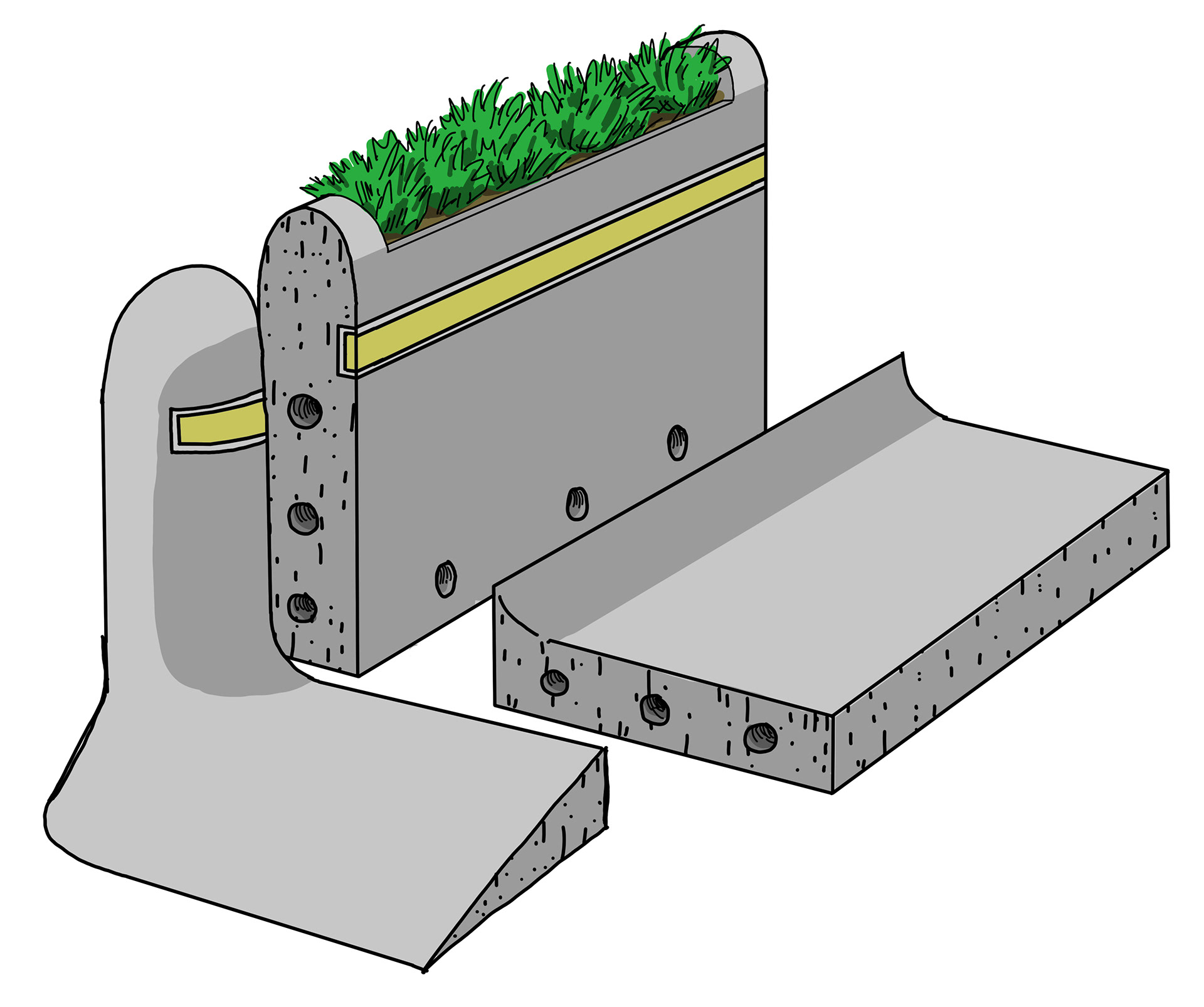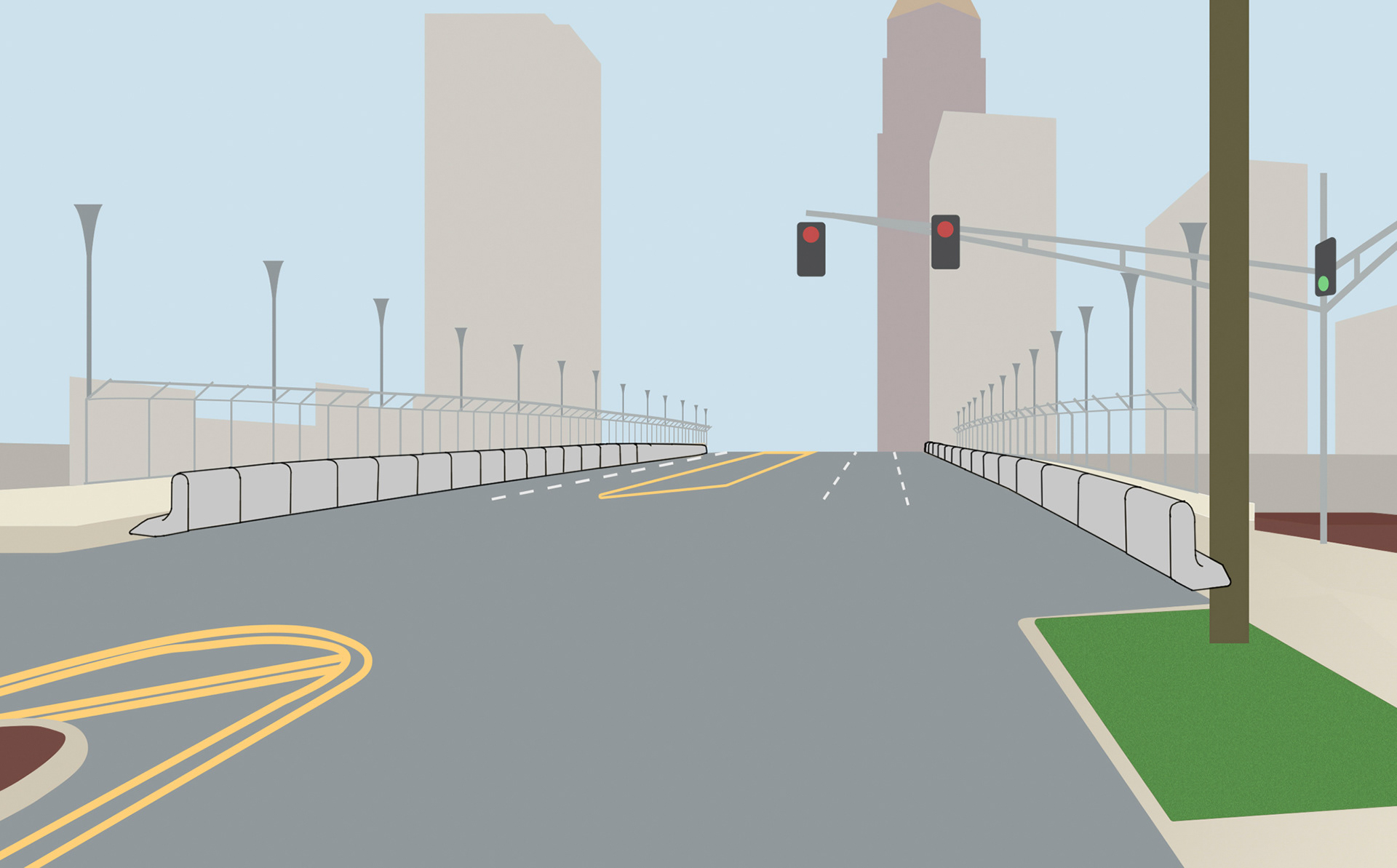 These are the easiest to implement, and are highly extensible. The stickers are simple vinyl decals that inform pedestrians about nearby attractions and their travel time. The sidewalk barriers are modular sets that can provide lighting and protection from vehicle traffic while replacing or sitting on top of an existing sidewalk.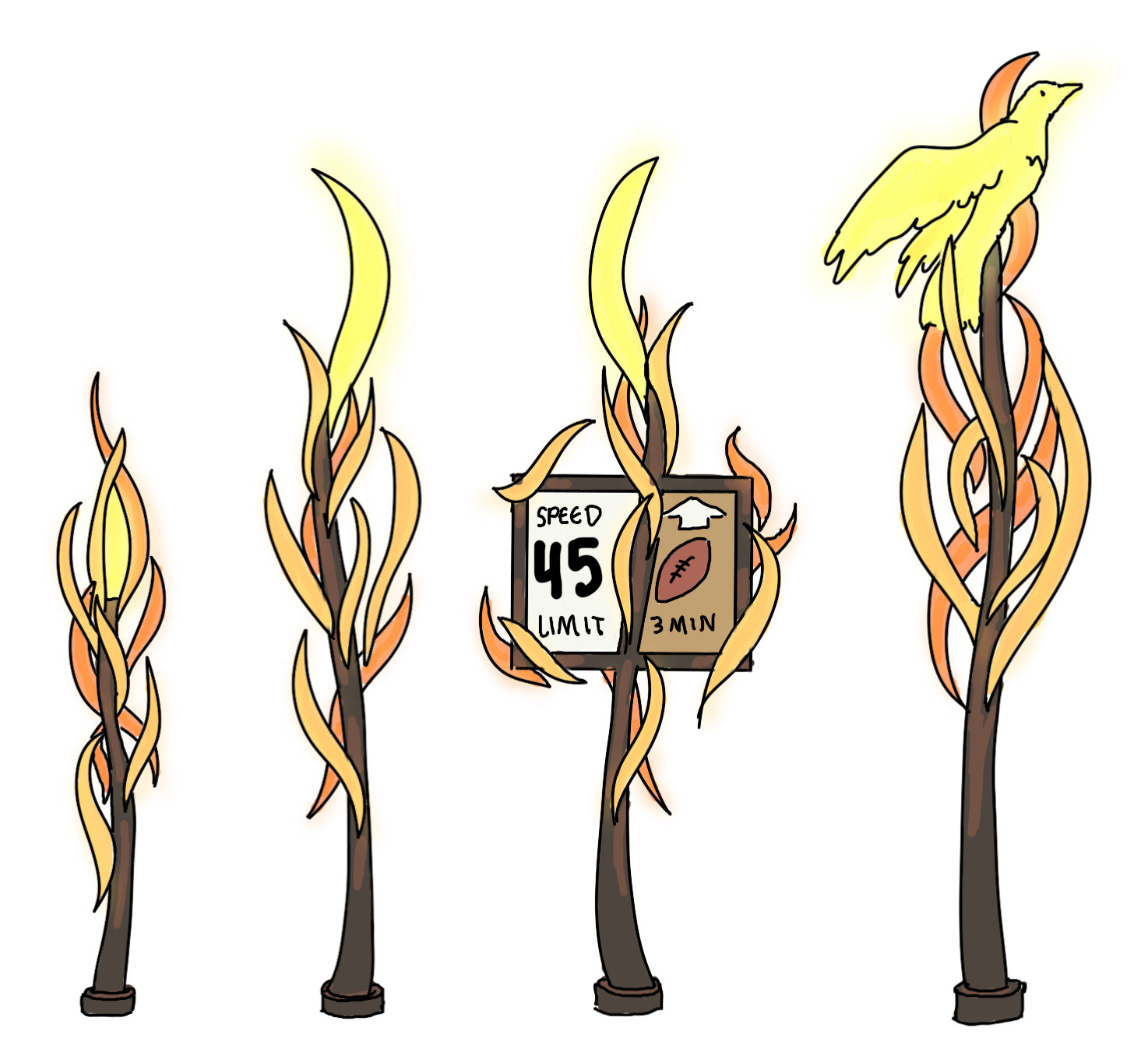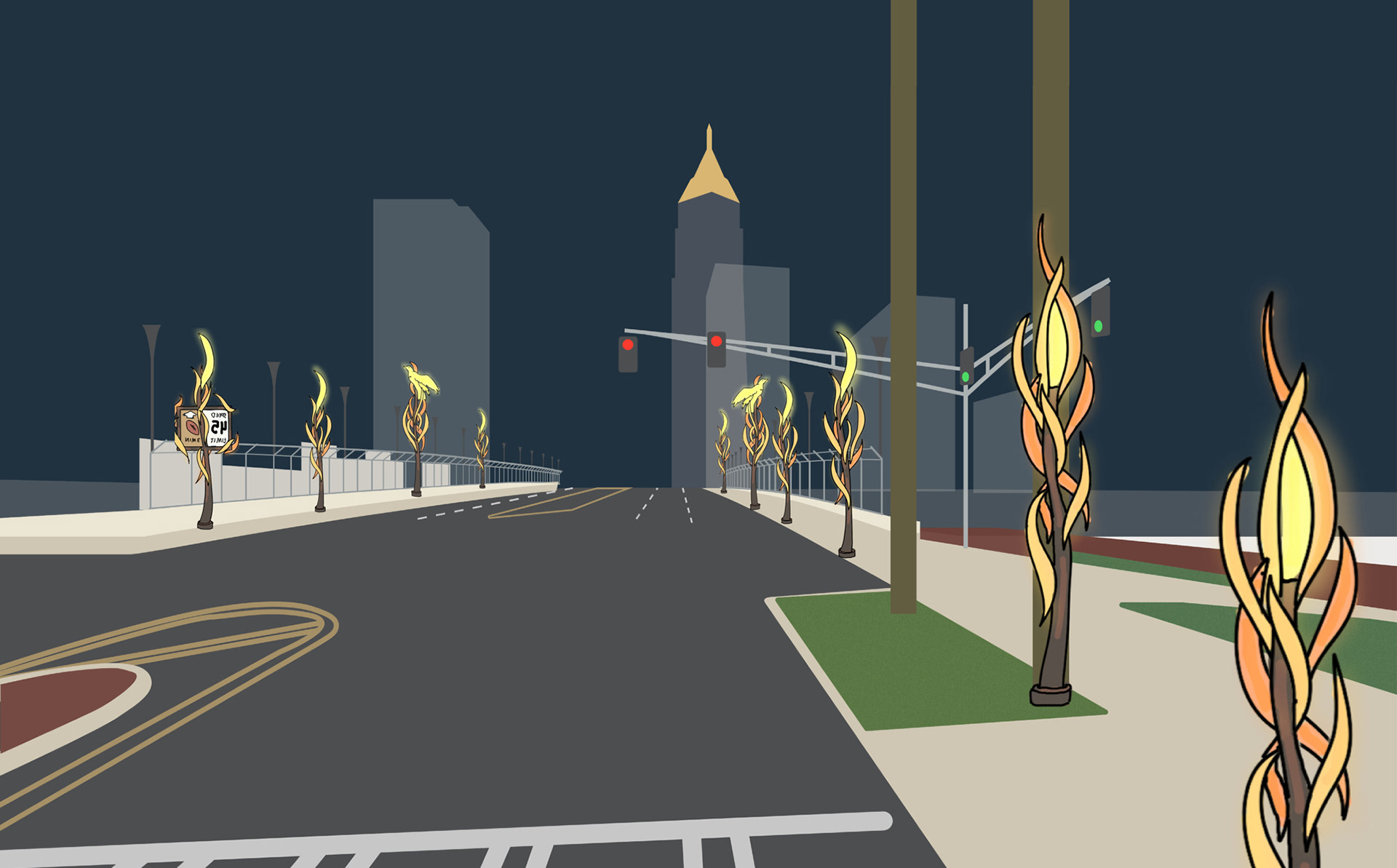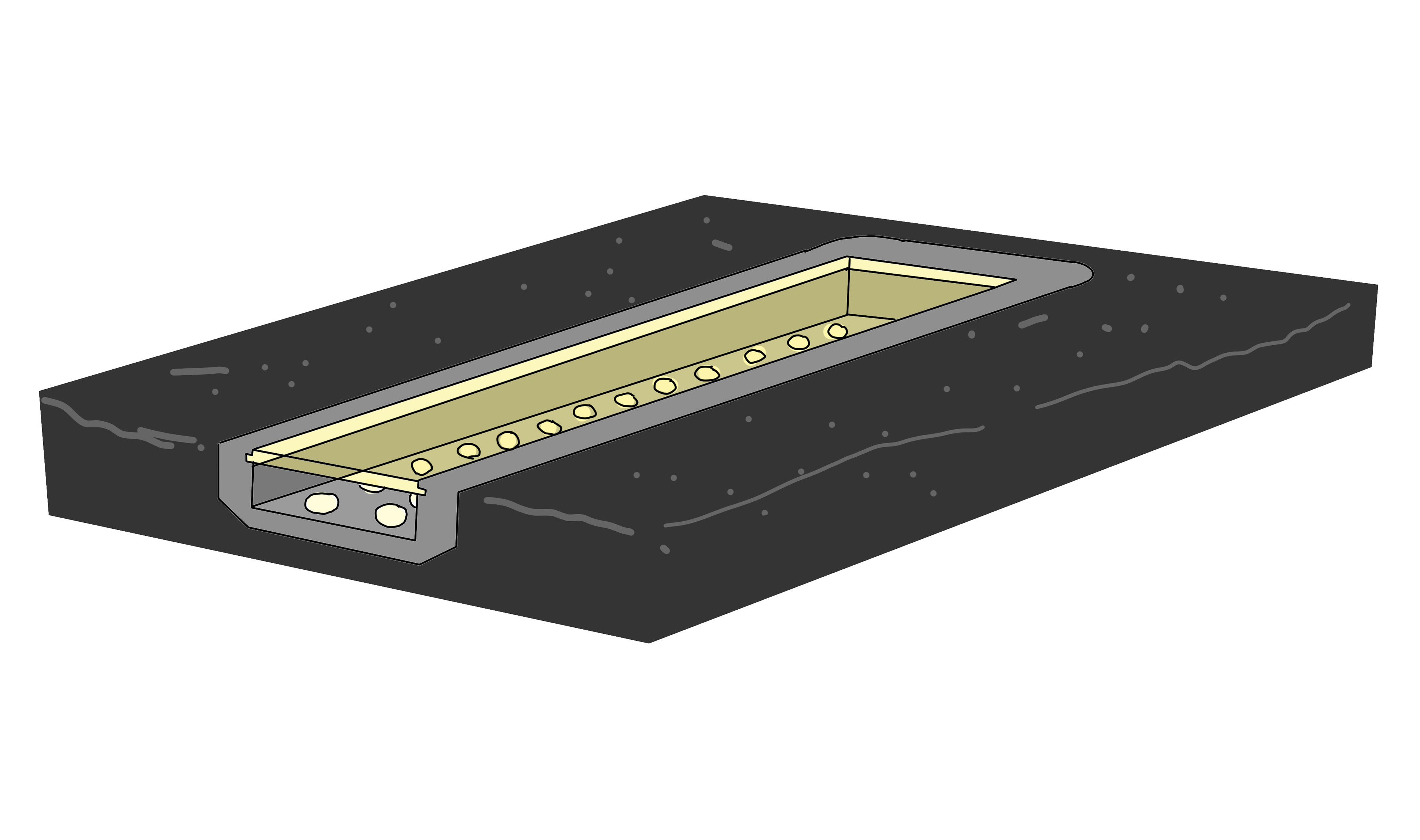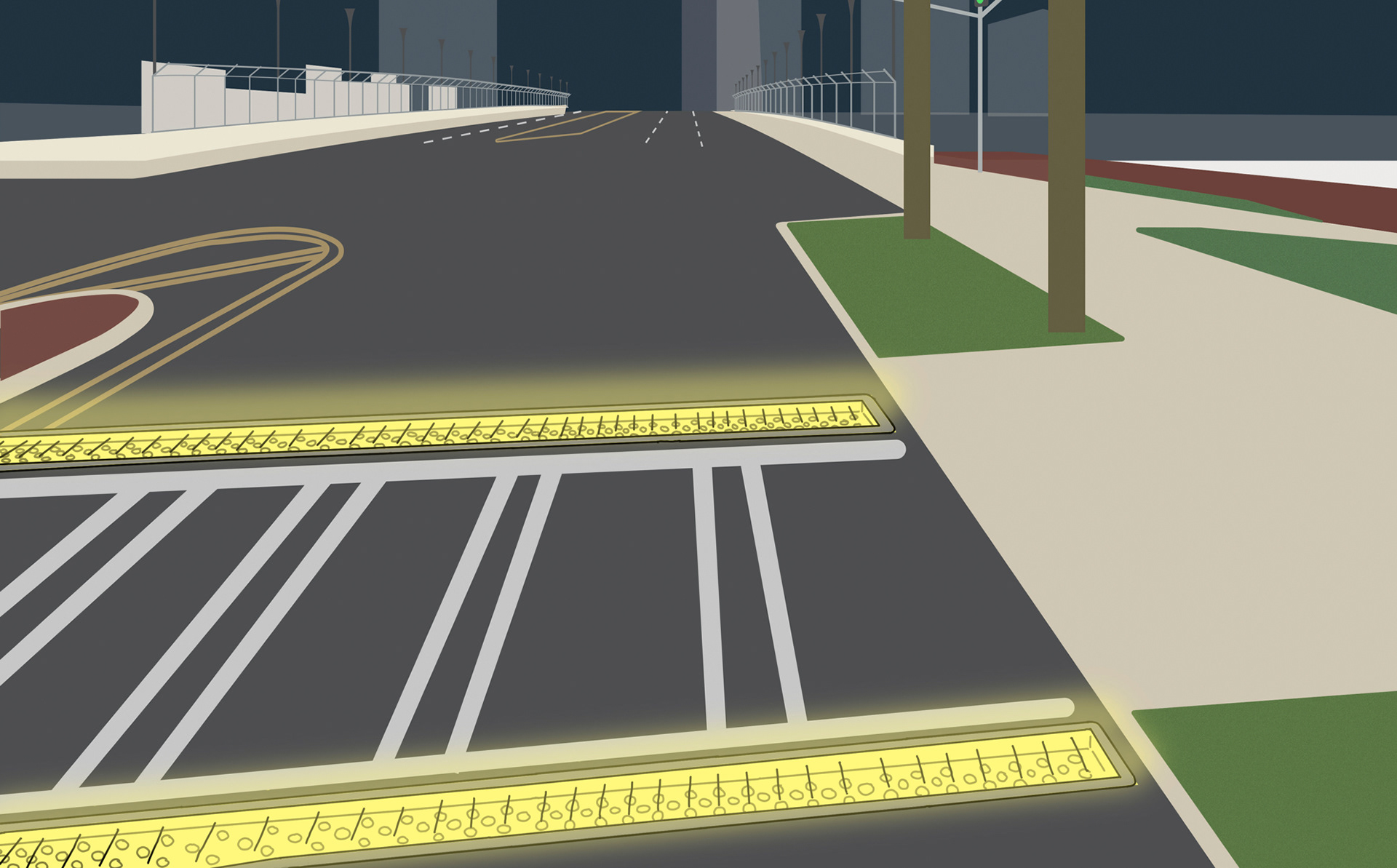 These two concepts would make up the next stage of implementation. The lighting draws on Atlanta's history and symbolism to create decorative lighting. Some lights would have LED displays that can show the speed limit, directions to nearby events and games, weather conditions, MARTA schedules, and emergency alerts. The other lighting intervention, the crosswalk, turns on when the pedestrian crossing signal is lit. This draws attention to the crosswalk and helps reclaim that space for pedestrians.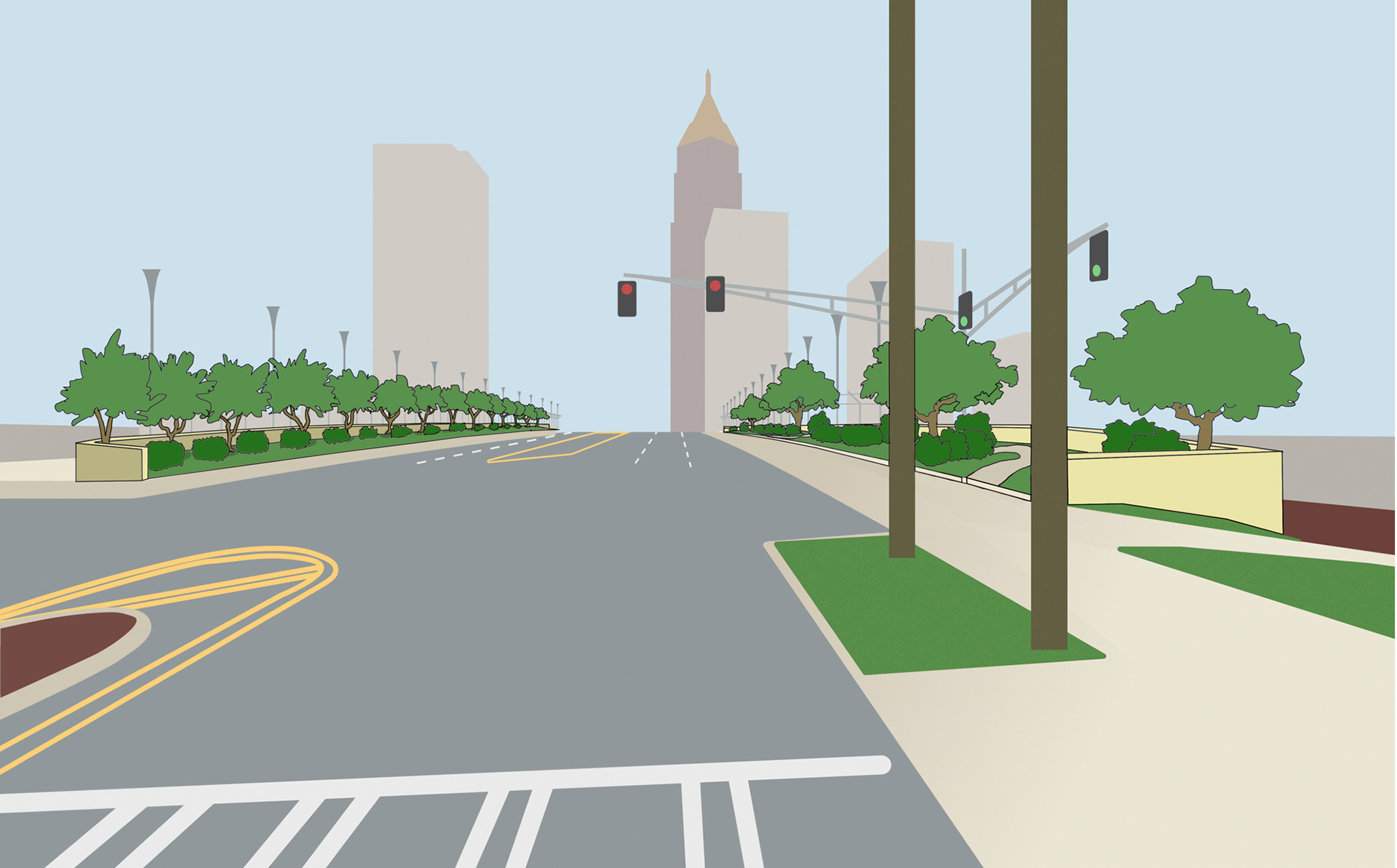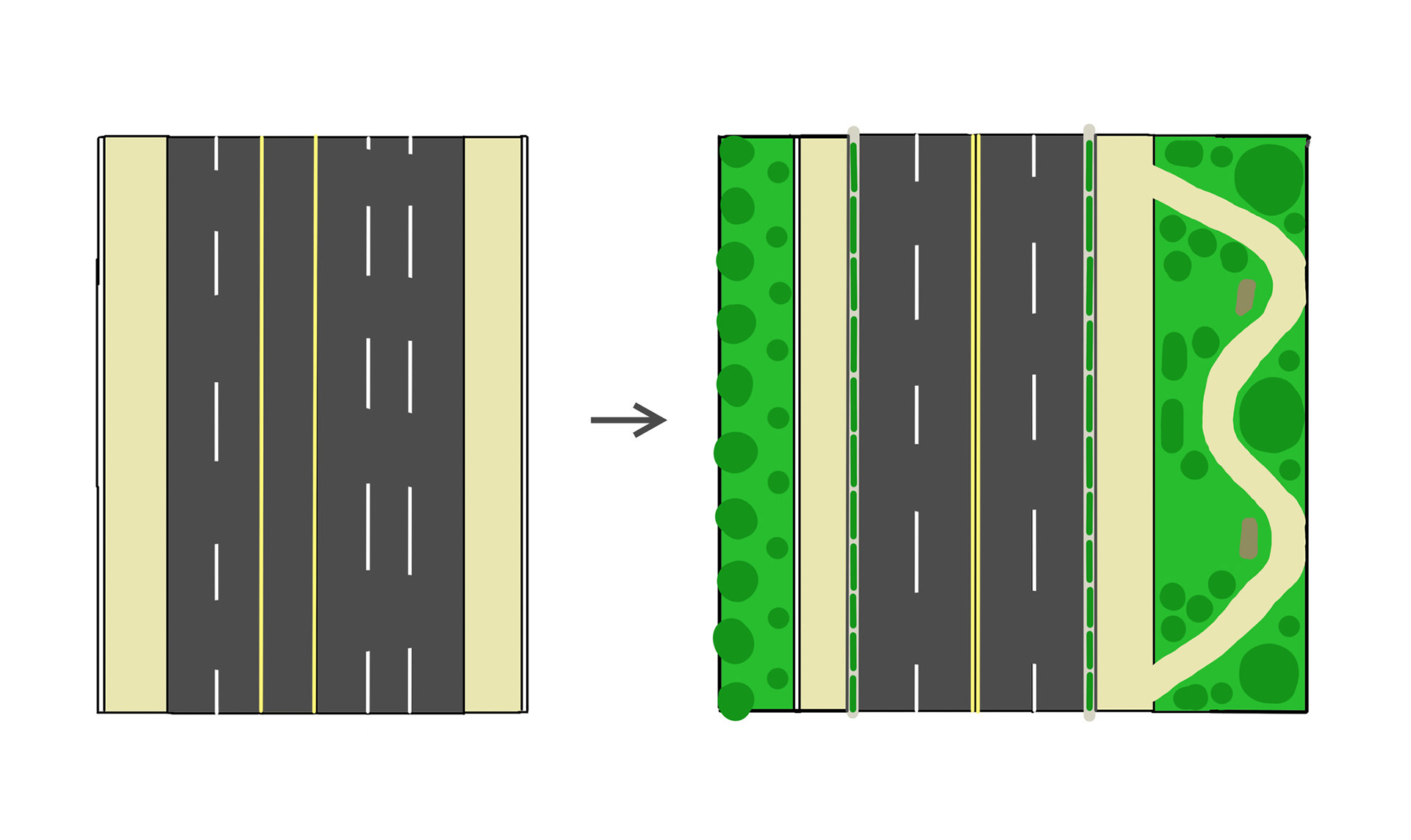 The bridge expansion is the final stage in overhauling the North Avenue route. Adding a pleasant walking path with benches allows pedestrians to relax and enjoy the fantastic skyline view, while greenery on both sides helps clear up pollution from North Avenue and the highway below. Even if a huge investment like a bridge expansion is out of the picture, greenery can still be added to the bridge to beautify the pedestrian space.
Our end goal is to create a destination for pedestrians in Atlanta that encourages more people to walk. By implementing each of these stages of development, we can create a welcoming space that emphasizes its gorgeous views and is welcoming to pedestrians instead of threatening.